Final Rule Takes Effect Jan. 1
On Sept. 24, 2019, the U.S. Department of Labor (DOL) announced a new final rule that updates the salary thresholds that some individuals must meet in order to qualify for a minimum wage and overtime exemption under the federal Fair Labors Standards Act (FLSA). The final rule becomes effective on Jan. 1, 2020.
As expected, this final rule increases the standard salary level for the executive, administrative and professional exemptions from $455 to $684 per week ($35,568 per year). It also increases the highly compensated employee salary level from $100,000 to $107,432 per year.
In addition, the rule allows employers to count up to 10 percent of an employee's non discretionary bonuses and incentive payments (including commissions) as part of the employee's standard salary level.
Finally, the rule also makes changes to the standard salary level for the exemption that applies to employees in the motion picture industry and some U.S. territories.
The DOL intends to update the standard salary and highly compensated employee total annual compensation levels more regularly in the future through notice-and-comment rule making.
For more information, view our compliance bulletin here.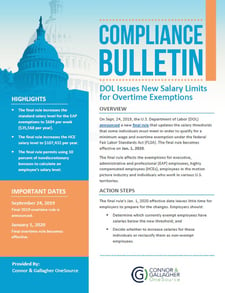 We also have a frequently asked questions bulletin here.
Source: Zywave and hr360
This blog post is not intended to be exhaustive nor should any discussions or opinions be construed as legal advice - it is intended for educational and/or informational purposes only.