Life insurance is an essential component of any sound financial plan. It provides financial security to your loved ones in case something unfortunate happens to you. Life insurance also provides peace of mind to the policyholder, as they know that their family is financially secure even if they are not there. Most people already know this and understand the importance of life insurance, so why is it that nearly half of Americans don't have it?
Cost should not be a prohibitor if you are in relatively good health since term life insurance policies can be purchased for a very affordable amount to fit into your budget. In our experience, we've found that when it comes to life insurance, it's more often an issue of procrastination than affordability.
The reality is, no one likes thinking about their own mortality, and planning for the future is often viewed as one of those "unpleasant tasks" that we tend to put off. It's likely that's why 48% of Americans still remain uninsured. Many people have the good intention to buy life insurance but don't get around to it. However, waiting can have consequences.
Here Are 3 Major Concerns When You Delay Life Insurance Planning:
Dying before you obtain coverage: Life is unpredictable. We unfortunately all have or know a personal story of an unexpected tragic event where a loved one was lost. Without proper financial planning, these individuals may be uninsured or underinsured, leaving their loved ones unprotected for the future.
Denial of coverage - Unexpected illness diagnoses happen, and if a serious diagnosis happens to you it will make it extremely difficult and expensive, if not impossible, to secure coverage after that.
Increased cost: In addition, premiums go up the older you get – even if your health remains the same. Even one or two years can make a significant difference in the annual cost.
With this quick example, the numbers speak for themselves on the cost of waiting. For illustrative purposes - we are using a whole life policy to complement this person's other retirement accounts like 401k, Roth, and brokerage accounts.
Whole-life policy with a $1,000,000 Death Benefit, Single Pay, Standard Health, Non-Smoker.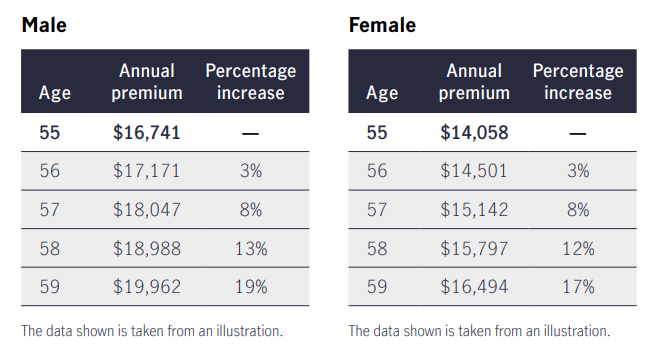 Keep in mind life insurance policy costs will vary depending on policy type and factors like age, tobacco use, and health.
For example, compare the illustration above with this one we ran for a term life policy for younger individuals.
20-year term-life policy with a $1,000,000 Death Benefit, Standard Health, Non-Smoker.

Whole-life policies are much more expensive than term-life policies because whole-life provides lifelong coverage and a cash value component. The difference between the two is like owning a home (whole life) vs. renting an apartment (term life).
Whole life policies are:
Income-tax-free death benefit to protect heirs at death, replacing lost income
Tax-deferred growth of policy cash values over lifetime
Tax-free distributions from the policy during retirement
Creditor protection of cash values in many states
Life insurance has no government-imposed annual contribution limits, like a 401k plan
No mandatory withdrawals from insurance policies at age 701⁄2
Withdrawals from policies prior to age 591⁄2 are not subject to early withdrawal penalties
Adds to the overall tax diversification of retirement income sources
Life insurance provides flexibility to tailor the design for individual needs
Many clients feel they cannot benefit directly from a life insurance policy and that it's only for final expenses. Living benefits, and accelerated death benefit endorsements for critical, chronic, and terminal illness (CCT) for zero additional premium, can help change this perception.
The sooner you can get the death benefit protection you need, or will need in the future, the less expensive it may be. We are here to help you change the life insurance for financial planning experience and provide the education you deserve.
Having a relationship with an investment firm is about more than just having an account, it's about taking an important step toward building and securing your financial future. At Connor & Gallagher, we look forward to earning your business and helping you implement life insurance for financial planning.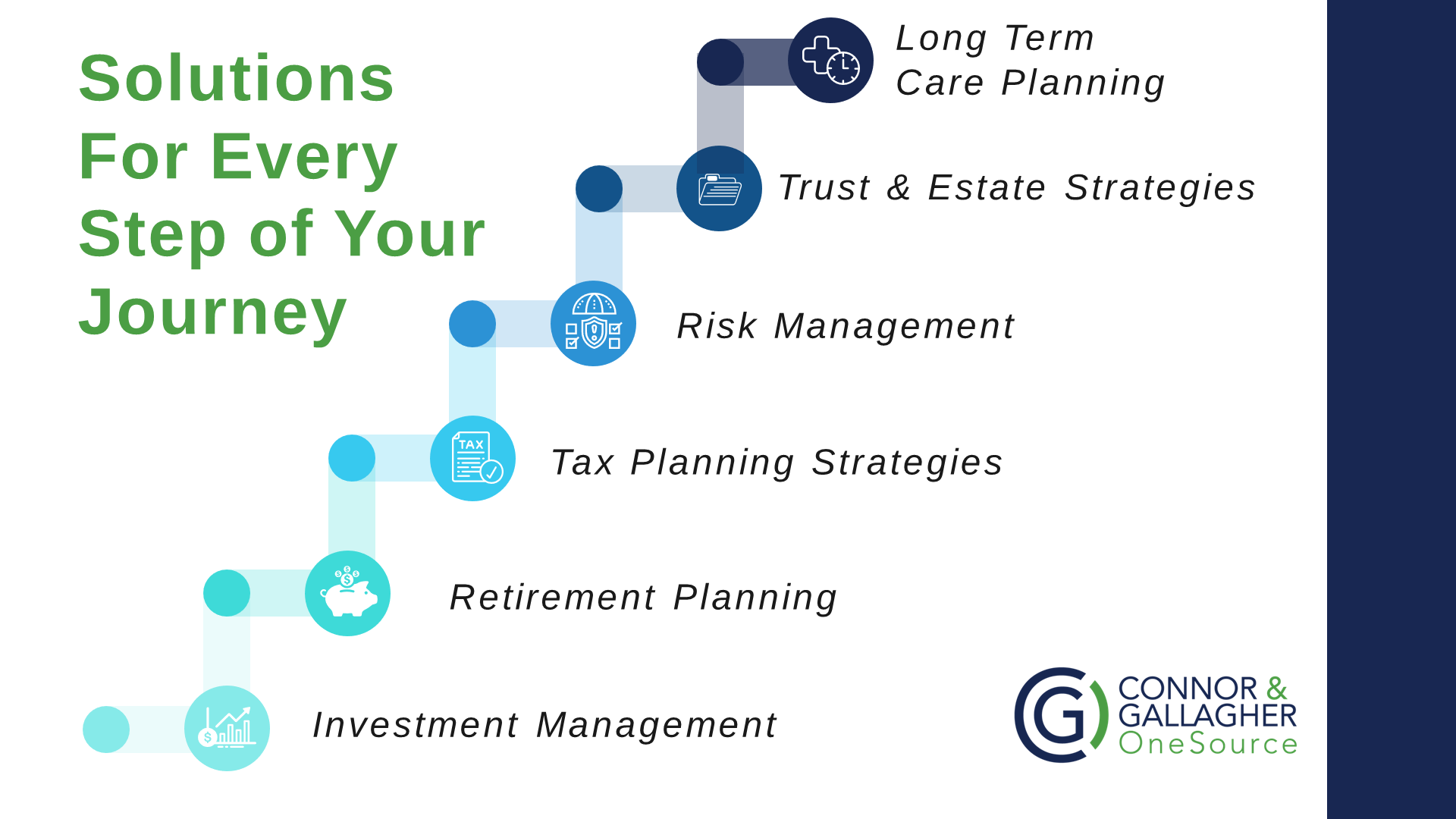 Sincerely,
Scott Krase, Wealth Manager
Connor & Gallagher OneSource (CGO)
(630) 810-9100
skrase@cgofinancial.com
Investment Advisory services offered through Connor & Gallagher OneSource, a registered investment advisor.
This blog is for educational and/or informational purposes only and does not constitute tax, financial, or legal advice.