On Thursday, November 4, 2021, the Occupational Safety and Health Administration (OSHA) released the
COVID-19 Emergency Temporary Standard (ETS) on Vaccination and Testing
[
click here for Summary
]
.
This ETS was highly anticipated following an announcement from President Joe Biden in early September.
This announcement directed OSHA to draft a new emergency rule
requiring all businesses with 100 or more employees to ensure all workers are fully vaccinated OR undergo weekly COVID-19 testing and wear a face mask in the workplace.
Employers with less than 100 employees are not impacted by this ruling.
What Does This Mean to You?
The ETS is limited to employers with 100 or more employees (corporate wide, not based on work location). Part time employees must be counted, but temporary employees obtained from a staffing agency do NOT need to be counted.
The ETS preempts any State and Local laws that may be in effect.
The ETS is temporary in nature, but could become a 'final rule' following further analysis and discussion.
The ETS applies to employers (public and private) who are not covered by rules governing Federal Contractors and Healthcare providers.
The ETS does NOT apply to employees who do not report to a workplace, employees while they are working from home, or employees who work exclusively outdoors. Employees who fall into those categories, however, DO still need to be counted when determining whether the employer meets the 100 employee threshold.
The ETS is effective immediately, however, there are several deadlines for various provisions. As of December 4, employers must be in compliance with all requirements other than weekly testing for non-vaccinated employees. As of January 4, employers must be in full compliance.
The ETS puts forth requirements for employee vaccination, verification of vaccination status, face-coverings in the workplace, and testing of un-vaccinated employees.
The ETS requires employers to obtain acceptable proof and keep records of vaccination and testing status.
The ETS requires employers to provide paid time off for employees to obtain their vaccination and to recover from any side effects.
The ETS does NOT require employers to pay for 'any costs associated with testing'.
What Action Steps Should you Take?
Determine if the ETS applies to your business.
Establish polices and procedures to implement the ETS.
Provide proper notification to employees per ETS requirements.
The ETS requirements should not be taken lightly. There are significant penalties involved both for lack of compliance on the part of the employer and for false statements or representations made on the part of the employee.
COVID Vaccine Tracking & Testing Tools
Our Employee Wellness division has been in communication with a number of vendors about their vaccine tracking & COVID testing services and pricing.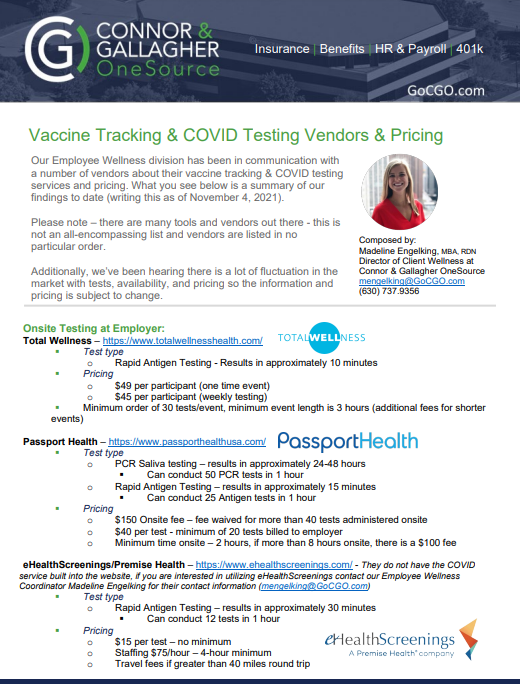 We will be hosting a Q&A webinar with an employment law attorney on November 11 (at 9am CT) so you can ask your questions during that time or submit them to info@GoCGO.com and we will ask the speaker your question during the webinar.
If you are a CGO HR Management, HR Navigator, or HR Advisory client, please contact your HR consultant with any questions and they will help you navigate these new regulations.
Thank you for reviewing this information and know that we are always here to help!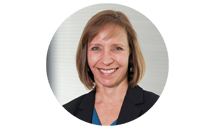 Sandra Teague, SPHR, SHRM-SCP
President, OneSource Division
Written November 4, 2021
This blog is not intended to be exhaustive nor should any discussion or opinions be construed as legal advice.